Spoiler Free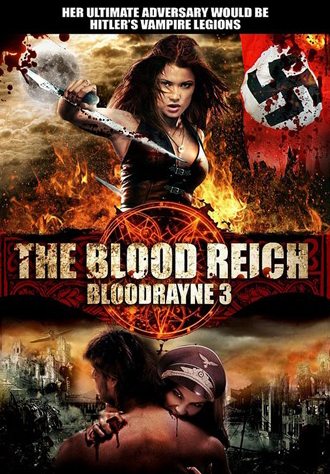 OK, so let's start with a quick summary of my history with the franchise. I'm a huge fan of the games and comics (minus Betrayal because it's a PSN/Xbox Live exclusive, boo!) and by and large I enjoy adaptations of my favourite videogames – I really don't care how much is changed so long as what I love about the game is still there in essence. So far I have only seen two such adaptations that I didn't like: Silent Hill (good enough horror flick in its own right but it managed to get away with being quite possibly the most underminingly unfaithful videogame adaption of all time simply by recreating the aesthetic of its source – dirty, dirty trick) and *drumroll*… BloodRayne!
There are no words in the English language to adequately describe how mind numbingly bad BloodRayne was, failing as both an adaptation and a standalone film. I don't want to be too harsh on it because between them Billy Zane, Michelle Rodriguez and Billy Zane's hair did at least make it watchable but… yeah. It was bad. And I have a very high tolerance threshold for bad.
But I did quite enjoy BloodRayne 2: Deliverance, in no small part thanks to Natassia Malthe replacing Kristanna Loken as Rayne. You can read my review here: DVD Review | BloodRayne II: Deliverance (2007)
All righty then, on we go…
Legendary vampire hunter BloodRayne faces her darkest hour in an epic, blood-soaked battle with a horde of Nazi vampires.

Fighting against the Germans in an attempt to rid Europe of their evil menace, a freak accident infects a Nazi officer with BloodRayne's vampiric curse. Discovering his newfound power the officer begins a campaign of immense destruction before turning his sights on his beloved Führer…

Battling vampires, Nazis and time to stop him infecting Hitler with the vampire's serum, BloodRayne must call upon all her strength, courage and blade-wielding skills if she is to stop this catastrophic event and save the world from the deadliest adversary of all.
Let's just say it, I liked it. Sure, I won't be rushing to add it to my collection and I certainly wouldn't describe it as "epic" but like its predecessor, it's nicely shot, well put together and for unpretentious, undemanding fun you can do a lot worse.
When judging adaptations, especially of videogames, the source material needs to be taken into account and I think a lot of my enjoyment of both Deliverance and The Blood Reich can be attributed to the fact that I have absolutely no illusions about what the games are.
As Rayne, you hack 'n slash your way from one location to another until you reach your eventual hack 'n slash goal. Some of the bosses have a slight puzzle element to them but that's as complicated as it gets. You don't play BloodRayne for intelligent storylines or compelling characters, you play for either:
the hot dhampir chick
the unapologetically OTT violence
both
And The Blood Reich delivers. There are explosions, there is evisceration, there is a beautiful piece of Nazi head splattage and Natassia Malthe gets butt naked. With another woman no less. And let's be frank, if you wanted anything more profound than that why would you even be watching an adaptation of a game with a cheat to make the protagonist's breasts bigger in the first place?
Nobody reaches quite the same heights of awesomeness as Michael Eklund's Preacher in Deliverance, but there are some interesting characters all the same. The heroism and bravery of code breaker Magda Markovic (Annett Culp) is effortlessly put across without exposition and with very little screen time while Clint Howard's pantomime mad scientist Dr Mangler (or Mengele after the real life Nazi mad scientist depending on which publicity you read – the end credits don't say) gleefully steps into the role of the first game's Dr Bathory "The Butcheress" Mengele but without the hypnotic bosoms.
The fight sequences are greatly improved over both previous instalments – whether they're better choreographed than before or giving Rayne's blades sword handles simply makes them more wieldy, I don't know. But whatever the reason, the improvement is most welcome.
The script is a definite weak point but even that's no worse than anything Romero's given us recently. No, The Blood Reich won't be winning any awards but it has everything BloodRayne should and a little more to boot.
And Rayne's coat is feckin' awesome!