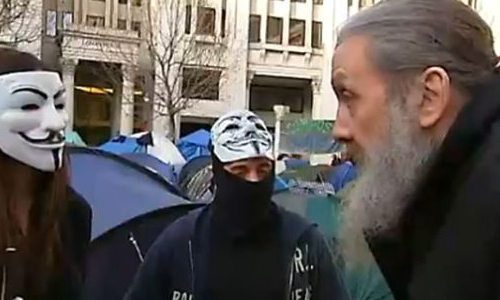 On Saturday protests are planned across the world against Acta – the Anti-Counterfeiting Trade Agreement. The treaty has become the focus of activists associated with the Anonymous hacking network because of concerns that it could undermine internet privacy and aid censorship.

First published in 1982, the comic series V for Vendetta charted a masked vigilante's attempt to bring down a fascist British government and its complicit media. Many of the demonstrators are expected to wear masks based on the book's central character.

Ahead of the protests, the BBC asked V for Vendetta's writer, Alan Moore, for his thoughts on how his creation had become an inspiration and identity to Anonymous.
It initially baffled me to learn that Alan Moore was thrilled that protestors had adopted the Guy Fawkes mask because it started with an interpretation of V that he hated. When Moore went to visit the Occupy protesters in London I couldn't  help but feel embarrassed on behalf of the lad who to his face cited a scene from the movie as the reason for its popularity. I'm amazed Moore didn't punch him. It only made sense after it became apparent that his selective world view has allowed him to take credit for it.
There is something undeniably striking about the sight of hundreds of masked individuals, indistinct from one and other with a unified purpose. The idea of protestors wearing a single mask as a symbol of unity is a great idea in principle but any credibility their cause may have is instantly undermined by the ignorance the choice of mask represents.
But unlike the protestors, Moore's ignorance is wilful. In the same way he chooses to to disregard the origin of protestors in Guy Fawkes masks for the sake of feeling smug, he chooses to ignore the history of the Gunpowder Plot for the sake of his agenda. He outright states that Fawkes was the leader, the mastermind and a scapegoat. Two lies and one piece of wishful romanticism. He chooses to view the plot solely as being about freedom from oppression and disregards the whole picture: open Catholicism was illegal at the time but freedom from oppression was merely a by-product of the end goal; the freedom to oppress. The conspirators didn't want Catholics to be free to worship, they wanted them to have absolute rule.
Moore has always struck me as a man who shares my Granny's definition of oppression; someone who if an authority figure told him not to fall into a burning pit of lava would jump in and truth be told I found his article for the BBC to be distinctly shallow.
I'd always assumed that the characterisation of Moore's V as a man who cares nothing for the human consequences of his actions, so long as he achieves his goal; a man who would likely make just as brutal and cruel a dictator as those he seeks to overthrow was intended to make us ask "who's really worse?" – and that he actually knew who Guy Fawkes was – but of late I'm starting to think that he in fact views his creation as a clear cut hero. Which is kind of unsettling.
Is the world of legitimate protest really so devoid of worthy mascots that we have to rewrite history just to create one?