"Robyn hode in Scherewode stod,
Hodud & hathud, hosut & schod.
Ffour and thuynti arrowus
he bar in hits hondus"
Historically we cannot be certain if there even was a Robin Hood or whether he was a construct of ballads and folklore. Real or myth, who was he? Was he a dispossessed aristocrat, was he a yeoman or was he just some dick head who robbed from rich and poor indiscriminately and kept it all for himself? Did he live under Edward III or Richard I? History says… meh, take your pick. Me personally, I like to think of him as a talking fox.
Nevertheless, everybody knows that he was a dispossessed aristocrat, robbing the rich to feed the poor, protecting the little people from the evil Prince John while good King Richard was off fighting his noble crusade.
We don't talk about the fact that everybody was poor in the first place because good King Richard had all but bankrupted the country to fund operation kill-the-brown-people-and-take-their-land. Ever.
Indeed, today in Nottingham you can be nailed to a tree for merely suggesting that anything other than the latest version of the legend is true or that Robin of Loxley himself actually came from Yorkshire (Loxley is a suburb of Sheffield by the way).
That legend persists and anything from earlier folklore to historical evidence that suggests differently is disregarded.
Which brings me to 2006 and the Wachowski Brothers' version of V for Vendetta. Naturally, it was shown on Nov 5th and a certain line of dialogue caught my attention:
More than 400 years ago a great citizen wished to embed the fifth of November forever in our memory. His hope was to remind the world that fairness, justice, and freedom are more than words, they are perspectives. So if you've seen nothing, if the crimes of government remain unknown to you, then I suggest you allow the fifth of November to pass unmarked.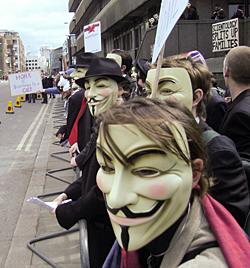 The Guy Fawkes Mask has since become a symbol of freedom and protest, a symbol of standing up to an oppressive regime and it could be hypothesised that the above line in particular is more instrumental in this than the rest of the movie and the comic combined.
However, that symbolism is based on a lie. Or to put it less cynically it is a symbolism based on historical inaccuracies in film.
The real Guy Fawkes was far from the romanticised freedom fighter  portrayed on screen. The real Guy Fawkes was a religious extremist who's end goal was to destabilise Britain and force the people under Catholic rule.
I think it's safe to presume that protestors who adopt the Guy Fawkes mask don't want to see their respective countries under the rule of the Catholic Church so it begs the question, why Guy Fawkes?
Hollywood has never been one to let historical accuracy get in the way of a good story but can that impact on the way audiences view the world? It would be nice to think that people don't just take what they see in the movies at face value and that nobody actually believes it was the Americans who captured the Enigma machine or that First Officer William Murdoch of RMS Titanic murdered two passengers before committing suicide but I fear that's a little too optimistic.
Do people wear the Guy Fawkes mask because they genuinely believe that what they saw in the movie was true or, as with Robin Hood, do they choose to disregard the motivation because the romanticism fits the agenda better?
Of course the third option is that it's not about Guy Fawkes at all but about V. But then which V?
Like Fawkes, Alan Moore's V is not the freedom fighter of the film. Moore's V would certainly be an appropriate symbol for those who have made Raoul Moat into a folk hero or for the London rioters who saw the lives lost and homes destroyed during those nights as nothing more than collateral damage but he has little to no place in the relatively peaceful protests where he is also used. Moore's V makes sense as a symbol for riot but not as a symbol for protest.
The only V that makes sense as a symbol for protest is the Wachowskis' V and that's a V born of bullshit. And what effect will that bullshit have on future generations? 400 years from now will we have forgotten the 20th and 21st Centuries and be protesting in Osama Bin Laden masks? Will the IRA be the heroes of future cinema?
And does the use of the Guy Fawkes mask in modern protest represent failing standards in education? I mean really, it's primary school level stuff.