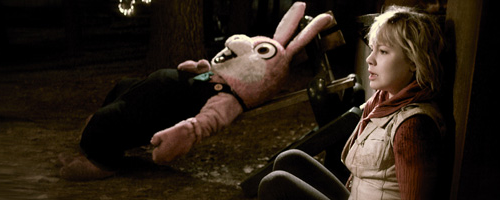 Halloween is just around the corner and with it Silent Hill: Revelation 3D, Michael J. Bassett's follow up to Christophe Gans' 2006 effort.
The original Silent Hill is an odd duck among videogame movies in that it was one of the least faithful – even Guinevere Turner's BloodRayne was closer* – but thanks to some brilliant aesthetic decisions nobody noticed and it became the only one that it's acceptable to like.
The most maligned are the Resident Evil films (even more so than Guinevere Turner's BloodRayne) and as such are subject to some downright bizarre double standards, whether they're being viewed as videogame movies or as action movies.
Adapting any medium for screen is a thankless task with fans attacking even the tiniest deviation from the source material with a vitriol matched only by that they level at said source when it doesn't go the way they want it to. And the more complicated the adaptation process the less reasonable the fans seem to be.
Adapting videogames is especially difficult because they're built around being interactive. The most important element – the player – can never be carried over. Some games have a strong enough story and set of characters that they can survive this removal but Resident Evil is not that kind of franchise. Remove the player and you're left with very little. Nobody has ever beaten a Resident Evil and thought to themselves afterwards "Hot damn! that was some intelligent storytelling!"
Once of a day, the ridiculousness of the the "stories" and stupidity of the characters was a source of ridicule amongst even the most ardent of fans and it's only since the first movie came out that they've became appreciated trough some "the original is always better" mentality. Surely nobody really wants to sit through an hour and a half of Jill Valentine hunting for keys and whining about how horrible everything is, do they?
Silent Hill on the other hand, while undoubtedly batshit insane and by no means intelligent, has a coherency within the madness that Resident Evil has never had. Remove the player from Silent Hill and you still have something to work with.
While it would be fair enough to say that Silent Hill was simply a better horror movie than Resident Evil** it is not fair to call it a better videogame movie. For that claim you have to look at the heart and soul of the source material. The heart and soul of Resident Evil is stupid, scientifically inept scientists creating monsters by experimenting with viruses they can't control. And that's it. And it's the crux of movie franchise. The only difference is that in the films that concept is taken in a direction where events actually progress rather than covering the same ground over and over again with a fuckload of different viruses that all do more or less the same thing.
The heart and soul of Silent Hill is a sentient town that draws people to it and creates a world based on the individual's psyche – everything a person encounters while there is personal to them, born from their own subconscious. Crucially, no two people see the same thing. That was nowhere to be found in the movie. The heart and soul of the movie was how wonderful mothers are. That alone should have had those who know the games laughing their asses off.
Probably the biggest source of flagrant duplicity among fans is Resident Evil's movieverse protagonist, Alice. Alice is typically considered to be a Mary Sue which is something of a misnomer. The technical definition of a Mary Sue is an impossibly perfect female character created by a female author as a means of inserting herself into the narrative. In the name of gender equality, some people have tried applying the name Gary Stu to a male equivalent but it's never really taken and the term Mary Sue has expanded to apply to any attractive woman who is neither completely helpless nor a bitch, without any such male equivalent.
I hate to play the gender card here, but even with her powers Alice has never been any more impossibly badass than the average male action hero and action movies with male leads are never criticised for the things Resident Evil is. Nobody takes issue with Arnie never having to reload or Jackie Chan's attitude to physics. Fair enough if people just don't like the fact that the non-canon character is more badass than the canon ones but the same is true of Daryl Dixon in The Walking Dead and nobody hates him. And the canon characters in Resident Evil can at least hold their own against the undead. The canon characters in TWD are a bunch of useless idiots. And that's being nice about them.
Perhaps a more appropriate example would be Rose Da Silva. While she isn't much of a badass she does eclipse the canon characters and her acceptance by fans is especially absurd given the reason for her existence: Alice came about as a way around the restrictions Capcom places on its intellectual property; Rose came about because Christophe Gans felt Silent Hill would be better if it were an ode to the godliness of mothers and that it made more sense for a woman to be looking for her kid than a man. Alice is a product of legality, Rose is a product of disrespect and a little sexism.
The trailers for Silent Hill: Revelation suggest the town's role will indeed be prevalent this time around but Bassett has been under fire from fans since the first screenshots were released because Heather Mason is wearing leggings! That's the kind of thing that matters to "true" fans. The obvious and visual.
In Resident Evil: Extinction, Claire Redfield is the leader of a convoy of survivors; her role in life is finding other survivors and protecting them. It's the perfect role for a post apocalyptic Claire because that's what gameverse Claire does. She protects people. But all fans could see was the fact that her hair was down and she was wearing khakis instead of bright pink leather hotpants. In the desert.
In Resident Evil: Retribution, post apocalyptic Leon S. Kennedy has stubble, doesn't carry GHDs with him everywhere he goes and generally looks more like a grown man and less like an eleven year old emo. He still has gameverse Leon's trademark hair but more rugged and worn in a way less likely to fuck up his depth perception. Fans hated that. But they also hated the fact that Ada Wong was wearing her trademark red dress and thought that Li Bingbing looked "too Asian" for the part which just goes to show there really is no pleasing them.
Most people who have heard me talk about Silent Hill would be surprised to hear that I don't actually have anything against the film in itself beyond finding it desperately pretentious – a Silent Hill story with a theme other than sexual frustration and abusive parents is most welcome and there were plenty of cosmetic improvements over the games. I just hold a mild grudge against the fact that it's unjustly praised where other videogame movies are condemned because it cheated its way into acceptance that it wouldn't have if people only paid attention to what they were watching.
Silent Hill is the reason I don't take the opinions of people who bitch about videogame movies seriously – well that and everything talked about above. It's the movie that proved the only thing you need to recreate faithfully is the aesthetic to win over the fans. If Resident Evil had an aesthetic to recreate fan opinion of the films would be very different indeed.
*it was a shitty, shitty movie but it had more of the game in it.
**not least because RE isn't really horror. And that goes for the games as well as the films – a shooter with fixed cameras is still a shooter.