First things first, I'm going to redirect you to points #4, #3, and #2 of this because it saves me a great deal of regurgitation: 5 Reasons It Sucks Being a Joss Whedon Fan.
Read it? OK then, I'll begin.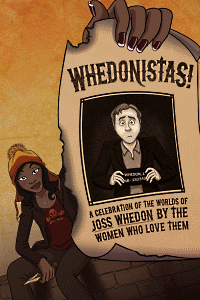 As the song says: "Joss created all our favourite shows" and Joss Whedon is indeed the man responsible for three of my top five. I love Angel and the "L" doesn't even come close to describing how I feel about Firefly and five out of seven seasons of Buffy.
And there's this book – Whedonistas: A Celebration of the Worlds of Joss Whedon by the Women Who Love Them – and I've been umming and ahhing over getting it.
There's just one thing. I don't want to be a Whedonista. There, I've said it. I don't want to be a fan of Joss Whedon.
The Privilege of Empowerment
Joss shoots his actresses most lovingly when they're wet and crying and curled up in the foetal position, pressed up against a wall, broken, mascara running, bleeding, and reaching out. And what are they typically reaching out for? Some dude (or vampire or werewolf) and the dick he's attached to.
It's not so much the truth of this paragraph in particular that bothers me about the female empowerment in the Whedonverse – I fail to see how being hurt makes you less empowered – but the fact that he gets away with it where any other male writer would be subject to condemnation. It's OK for Whedon's most iconic heroine to turn into a self-destructive idiot in the presence of a penis but not for anybody else's, in much the same way that Whedon's allowed to kill off or write out the black folks while Tim Kring isn't. I know the double standard isn't really Whedon's fault but it's an issue all the same.
What bothers me about the empowerment factor is that it's reserved for a select group of women who fit into a very strict aesthetic standard. Look in the mirror and ask yourself "would Joss empower me?". The answer's probably "hell no!" Unless a character is specifically written as "large" empowerment is reserved for the petite and toned. Where in all this empowerment are women allowed to feel good about themselves in a real world sense? Why are women set such a high standard to meet?
And before you try blaming the networks it was Joss Whedon personally who rejected Amber Benson off hand as Tara Maclay because she didn't meet said aesthetic standard. If Marti Noxon hadn't put her foot down Benson wouldn't even have gotten a second audition. In the Whedonverse Miracle Laurie is "heavy", Jewel Staite looks like "she enjoys a cheeseburger" and Amber Benson is just too big for consideration. That's the first nail in the coffin of disillusionment. In the Whedonverse, this is as large as women are allowed to be: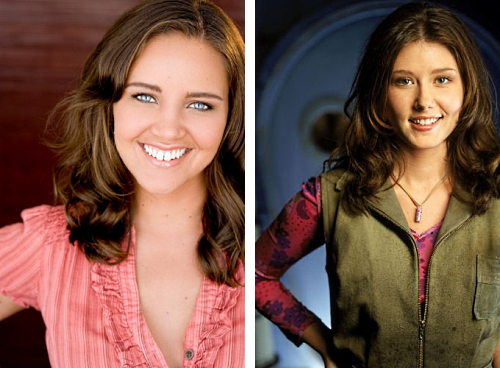 Dollhouse's "Heavy" Miracle Laurie and Jewel Staite AFTER fattening up to play Kaylee in Firefly
The God in Question
They always say you should never meet your heroes but sometime avoiding interviews with them is just as advisable. I love the worlds of the Whedonverse but the man himself really rubs me the wrong way. I've always struggled to disassociate a piece of work from its creator and these days, any time I read an interview with him it makes me question my fandom – when the interviewer isn't being sycophantic or Whedon's talking about some of his less loved works (for instance the original Buffy movie) or the Buffy reboot he seems to adopt an "everybody sucks but me" attitude (see what I did there?) and, to be honest, comes across as a bit of a cunt.
The second nail is his collaboration with Morgan Spurlock on Comic-Con Episode Four: A Fan's Hope. You know, the man who won critical acclaim for demonstrating that force feeding yourself 5000 calories worth of McDonald's a day for 30 days makes you fat and unhealthy. Because apparently the average American is too stupid to work that out for themselves. Super Size Me has since failed dismally to stand up to any kind of scientific or mathematical scrutiny with repeat experiments proving that a) a fast food diet can be perfectly healthy provided you are responsible with your choices and b) it would have been impossible for Spurlock to have consumed 5000 calories a day unless he was eating considerably more than we were shown on screen. The film wasn't about the experiment or the facts, it was about the agenda and nothing more. I mean really, it was funded by a PETA front group for fuck's sake!
While it's hard to imagine what possible agenda Spurlock could have in this instance, it's very disheartening to know that Whedon (and Stan Lee for that matter) has little enough journalistic integrity to collaborate with somebody like that.
The Buffy Reboot
I'm for it. And I don't just mean that I'm curious to see what becomes of it, I mean I think it's necessary and I really hope it does well. It won't, because that would require it getting a fair hearing and we all know that's never going to happen but I hope it's good and that when the hate for hate's sake has died down it gets whatever credit it deserves.
I admit that part of why I want it to do well is related to one of the arguments against it: that's it's too soon/unnecessary. As I said above, I think the Buffy reboot is necessary which I'll get to in a minute but that's not why I hate that argument so much. I hate the argument because it represents yet another Whedon based double standard. Is it necessary for American networks and studios to remake everything they didn't come up with themselves? And since the original is usually in it's infancy when that happens is that not too soon? How is Buffy different? Because it's already American? Or because its creator holds deity status amongst fans?
So why do I think it's necessary? Seasons six and seven. Even with some individually superb episodes, they were unnecessary. In fact they were beyond unnecessary. And what's more, they retroactively rendered season five shite. Season five only works as a final season. The Gift would have made an amazing series finale but as a season finale it was utterly pointless. The whole of season five's pointless if you add another. Or two. Or three if we count medium transferal. Buffy's mother died and it was heartbreaking. Did that stop her being in the show? Did it bollocks. Buffy dies and is ripped from heaven by her friends a few months later. Should be interesting but all that comes of it is Buffy's even more self-destructive than usual. Because she just wasn't annoying enough to begin with. Season six was directionless and season seven was anticlimactic. And they were both kind of preachy. It's all very well saying that Whedon should be in charge of any reboot but it's precisely because of Whedon that Buffy got so stale to begin with. What the Buffyverse desperately needs is an incarnation with no input from Joss Whedon as an antidote to what the show ultimately became.
So what do we think? Is it worth me buying the book?