Note: to the best of my knowledge this will be the last time I talk about Mass Effect 3 before actually playing it. Never mind. See here.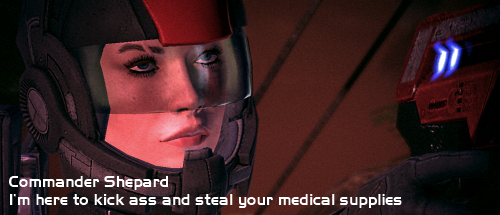 So…
ME3 is set to go down in history as having the most controversial ending in videogame history. Or something like that. The reason, according to BioWare, is to "get people talking". In fact people have been talking about it so much that I consider the fact that I still don't know how it ends to be my greatest achievement (I'm not a very high achiever).
There has even been a petition to get the ending changed. And BioWare seem to be listening.
Err, shouldn't this be arousing suspicion?
Until learning that BioWare are (claiming to be) considering changing the ending in order to please fans I was operating under the theory that the reason they wanted people talking was to force gamers into purchasing part 3 as soon as possible in order to avoid spoilers.
But lets just break this down. There are three things fans have complained about regarding Mass Effect 3:
The requirement for PC gamers to install spyware with their game

The requirement to purchase a fuckload of DLC in order to get the whole story

The ending
Two of these complaints are reasonable. BioWare and EA are (claiming to be) listening to the other one.
For crying out loud people, they are playing us! They aren't listening to fans! They don't care about us! The purpose of this controversial ending was the campaign to get it changed all along. They know what fans are like. They want people petitioning so they can create yet another piece of DLC that idiots will pay for, all the while keeping up the pretence of giving a crap about anything other than profit!
Don't be taken in by their bullshit. All gamer suffer when you do.
Update: Something else has occurred to me. Although people have now jumped on the campaign bandwagon are we even certain the initial petitioners actually exist? After all, it wouldn't be the first time EA has paid people to pretend to be outraged at one of its games for the sake of publicity.