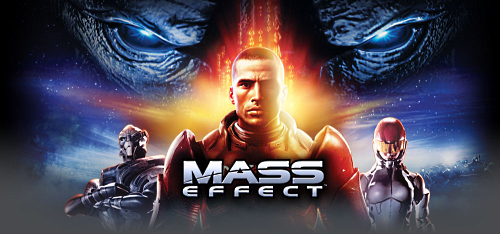 Beware: Spoilers
I'm aware that I'm a latecomer to the franchise but despite my interest I've only recently been prepared to part with money for it. EA's abhorrence of PC gamers is well documented and in addition to using the notoriously conflictive rootkit DRM, SecuROM, players were expected to re-activate their game online every ten days or it would stop working. Furthermore, the game had a lifetime authentication limit of three times (later expanded to five) after which, players would have to apply to EA for an expansion with their right to replay the game they paid for being decided on a case-by-case basis. Although the ten day check in and the activation limit were removed pretty sharply after some backlash, SecuROM remained. Thankfully, when Mass Effect was released on Steam the game fucking rootkit DRM was removed.
For a while, I was still iffy about buying the PC versions of EA games even if they were sans-SecuROM on Steam because of their DRM policies, but since I'm no closer to owning an Xbox and buying the more expensive console versions is what they want me to do anyway, my new EA policy is to buy them through Steam but only when they're on sale.
Mass Effect and Mass Effect 2 where part of this years Christmas haul.
As Commander Shepard, you lead an elite squad on a heroic, action-packed adventure throughout the galaxy.

Discover the imminent danger from an ancient threat and battle the traitorous Saren and his deadly army to save civilization. The fate of all life depends on your actions!
Well, despite some tedious, unskippable cutscenes, Shepard's inability to jump, climb or step onto anything more than brick height and the second worst in game vehicle I've ever encountered (it was the worst but I started playing Dead Island yesterday), it was definitely worth the wait.
The keyboard controls can be a little clunky at times but the port is stable and optimised for mouse support.
Overall, I found the aesthetic to be a little boring in spite of some individually stunning vistas but the gameplay and investment that makes you take in the world easily makes up for this.
While Mass Effect is predominantly story and character driven it is perfectly balanced with sci-fi, shooter, actiony goodness. Precisely how much of each is down to you; you decide Shepard's gender, appearance, back story and skillset while the length, outcome and order of events is left almost entirely in your hands. You can resolve issues diplomatically or by force. But crucially, that balance is never lost.
The control you exhibit means you don't simply play as Shepard, Shepard is an extension of you and that makes the other characters in the game all the more real as well:
During one of the game's side quests you are asked by a man named Samesh Bhatia to secure his wife's body's release from the military for burial. However, upon investigation you learn that Bhatia's wife was killed by a weapon never encountered before and that her body is being held for tests which will improve Alliance defences. I chose to let the military keep the body because I felt the future implications where more important than sentimentality and Bhatia's attempt to make me/Shepard feel guilty just made me wish there was an option to tell him to grow the fuck up and stop being so selfish. Update: Woohoo! That option was opened up to me on the third play through. Take that Bhatia, you self centred old nob!
After the encounter with Bhatia crewmember Ashley Williams makes it known that she thinks honouring one man's feelings and the memory of one soldier matter more than the future lives that could be saved by the research. However, this blind compassion is strictly limited to humans and as demonstrated later in the game, Ashley will happily see the genocide of an alien species without so much as batting an eye for no other reason than her own prejudice. For this reason, I chose to sacrifice her when the time came despite her being my best soldier.
Now that's characterisation!
You don't beat the game by following a set script, you beat the game by doing what feels right to you personally. When you play, you aren't just playing the exact same game as everybody else; it truly is your game.
P.S. I wasn't so invested that the voice talents of Alastair Duncan and Keith David weren't good enough reasons for me to save the Council (nobody blows up Dick Durkin on my watch!) and appoint Captain Anderson as their human representative.